by Melinda Liu, January 17, 2005
The unimaginable shock of the disaster is already forcing the government and Tamil separatists to work together for the first time in years.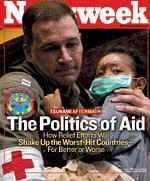 In the wake of the tsunami, Sippiah Paramu Tamilselvan and his colleagues are scrambling to manage a massive relief operation. Soldiers, medics and even psychological-trauma counselors swung into action with impressive efficiency after the quake-triggered waves struck Sri Lanka's northeastern coast. But this boyish 38-year-old calling the shots is far from your typical Asian official, and the operations under his control have little connection to the island nation's Sinhalese-dominated government. 
Now the Tigers' de facto administration in northeastern Sri Lanka, where they control all of three districts and parts of five others, has an unprecedented chance to work with the Colombo government—and possibly make progress toward a lasting peace. Mistrust between the Tigers and the government still festers in the wake of a 2002 ceasefire that led to failed peace talks last year. Yet after the tsunami hit, President Chandrika Kumaratunga's office invited Tamilselvan—the equivalent of the Tigers' prime minister—to participate in top-level decisions about rehabilitating the impoverished northeast. A hot line between the government and the rebels, inoperative for years, is back in service. "Confidence-building measures in a tragic situation like this can help bridge the gap" between the two sides, says Tamilselvan. Authorities have even noted with approval the Tigers' post-disaster mobilization, which presidential spokesman Haram Peiris acknowledges as "swift and efficient."
Granted, the history of suspicion and finger-pointing between Tamils and the Colombo government won't disappear overnight. Both sides have launched ethnic-cleansing pogroms. The Tigers have carried out suicide-bombing operations that have killed thousands, including Indian Prime Minister Rajiv Gandhi; the government has passed discriminatory laws against the Tamils. One LTTE official claimed the government was hampering the flow of assistance to Tiger-controlled territory—and that some clothing earmarked for Tamil recipients had been diverted. "The government doesn't want to see Tamil people getting aid," he alleged. With each side offering conflicting casualty figures, it isn't clear how many of the dead and displaced are Tamil or Sinhalese.
But for many, one of Asia's longest-running insurgencies has already been dwarfed by the tsunami. "Nature has mocked Sri Lanka's war," says Peiris. "Twenty years of conflict claimed some 60,000 lives, but 20 minutes of the tsunami caused 31,000 deaths. Nature did more damage to us as a nation than we could do to each other." In the Tiger-controlled district of Mullaittivu in northeastern Sri Lanka, the disaster has forced 34-year-old Kamala Sagayamathan and her three daughters into a refugee camp, where they sleep on mats on the concrete floor of a school. The Tamil mother says she was compelled to move half a dozen times in the 1990s due to ethnic conflict. But war-inflicted losses paled in comparison to the damage wrought by the tsunami, which fractured her husband's leg and demolished their home. "This is worse than war. During the fighting we lost little things, but we could always leave home and return later," she says. "Now we've lost everything."
The result of such trauma, says one foreign relief official, could actually be beneficial. "Ethnic conflict is a polarizing factor, but natural disasters are usually a binding factor," says P. V. Unnikrishnan of the London-based NGO ActionAid, who traveled to Kilinochchi to assess humanitarian needs in Tiger areas. The road to the Tiger "capital" is proof. Coils of barbed wire and sandbagged Sri Lankan military bunkers line the official highway, which ends in a dusty no man's land. Here most passengers disembark and wait on rough-hewn wooden benches for a vehicle from the other side to pick them up. But since the tsunami, relief trucks are being waved though directly to speed the flow of humanitarian aid. Nearer to Kilinochchi, handwritten signs made out of bedsheets begin to appear, giving instructions for post-tsunami relief activities. Trucks piled high with humanitarian supplies are tailed by four-wheel-drive Pajeros and Prados sporting NGO logos on fluttering flags.
 Now, though, U.S. Agency for International Development officials have met with Tamil representatives, according to a senior Bush administration official managing the U.S. response to the tsunami. "Let's just say we're doing this very carefully," the official says. "There are legal restrictions to direct assistance, but we also need to make it clear to them what we are doing, so they don't mistake our presence there as anything more than humanitarian."
Other foreign governments and relief groups are even more eager to offer aid. The Italian government was so keen to speed relief to the affected areas that it dispatched a couple of diplomats with seven trucks of humanitarian supplies into Tiger territory last week. A growing number of international donors are connecting directly with the Tigers' relief arm, the Tamil Rehabilitation Organization (TRO), a legally registered Sri Lankan NGO. After the tsunami, the Australian government began funneling assistance to the TRO branch in that country for the first time, says one aid worker from Down Under.
Colombo remains sensitive about such contacts. Authorities blocked U.N. Secretary-General Kofi Annan from visiting the Tamil-controlled northeast last week, citing security concerns. And the Foreign Ministry protested the unauthorized Italian delivery of goods to the area. Peiris vows such shipments won't happen again, saying, "Sovereign donors should deal with the sovereign government of Sri Lanka."
Partly this may reflect a sensitivity that the government not be shown up by the Tigers' recovery operations. "The Sri Lankan government is sluggish, corrupt and inert, making it hard to absorb large amounts of funding," says Paikiasothy Saravanamutti of the Center for Policy Alternatives. Still, unlike in Aceh, where Indonesian soldiers continued to shoot at separatist rebels in the midst of humanitarian operations, cooperation does seem to hold out the promise of progress. Norwegian Ambassador Hans Brattskar, whose country helped broker the ceasefire between Colombo , predicts the current crisis will "change history—but in what way we still don't know." Survivors desperately hope for the better; things could hardly get worse.
Newsweek International